Michael McAleese Inducted into 2016 Massage Therapy Hall of Fame August 7th!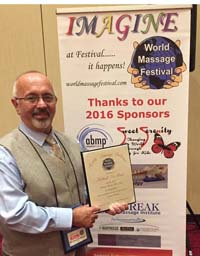 With any organization it is and should be a team effort. I shared my vision for SOHMAR with every instructor that we had in the last 25 years and each took that vision and shared it with every student from Massage to Reflexology to continuing education.
Every so often that vision grew and matured as all visions should. We all grew. I am receiving the honors next Monday evening of being inducted into the "Massage Therapy Hall of Fame". I must say that it is because of the Team effort that got me here. Starting with our angel investors who believed in supporting me when I started this journey in a 9×11 closet space as a massage therapist to the start of our School.
I also thank my wife and partner Star McAleese who believed in our vision and then to all the team mates from Dr. Todd Bowers
Dr. Ross McKay, Cindy Ann Herman, to Sarah Eckstein who Raised the bar and to Julie Freeman our current A&P instructor who refused to let illness stop our dream and pushed through. Special thanks to other instructors include Jaja Stretchologist and Joy Cornelius Klein and Jemima Lipari.and the dozens of Continued Ed instructors that traveled to our school to share their knowledge. But through it all Our greatest treasure is changing the lives of many through scholarships and community outreach.